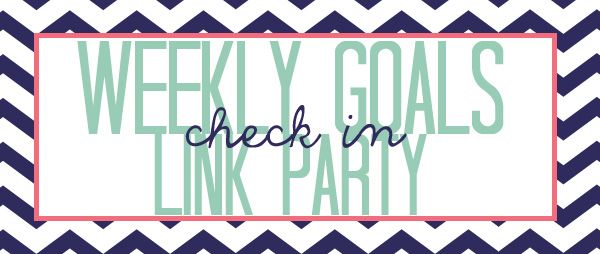 Whoever thought of this Weekly Goals Link Up: Genius. I never write down my goals (even though they say you should) and wow, what a difference it made. Let's recap last week's...
1. Drink More Water
Omg. I thought I was going to float away. Monday night I realized I was short about 50 oz. of my goal, so what did I do? I chugged it. At 9:30pm. I seriously got up and peed 4 times that night. I did really good Monday-Friday with this goal, but Saturday and Sunday were tough. I didn't have my trusty water bottle with me. Big mistake. Gotta remedy that this weekend.
2. Clean My Kitchen
SUCCESS! I got home from Huntsville Sunday night around 5:30pm and got to work. I knew if I sit down, it wouldn't happen. But since I knew I'd have to account for my actions today (via this blog), I had to get busy. Check out the before and after pictures (but don't judge my kitchen. It's a work in progress with tha painting and cabinets and all that)...
Before:
Pantry
Fridge
Sink (after I cleaned out the fridge)
I have a love affair with Lock n Lock and Tupperware.
Another shot of some messy messy cabinets
And now for the afters...
Pantry (and Bentley photo bombing)
Baking goods
Even reorganized my magnets
Fridge and freezer. I need to do some shopping.
Sink and countertops
ORGANIZED!
Dishes and cups
Can finally see the top of the kitchen table!
Coffee station
Chloe just chillin like a villian. She hates when I sweep.
3. Lose 1.8 Pounds
BLEW THIS ONE OUT OF THE WATER! I lost 5 pounds this week! Even with a trip home to Huntsville, I still managed to drop the weight. Running and watching what I eat. That's the only way to make it happen. I've officially lost 43.2 pounds since my highest weight.
Fan. Flippin. Tastic.
NOW ONTO THIS WEEK'S GOALS
1. Don't eat in front of the tv.
This is going to be so hard, but I've heard that it's a good habit to get into. Now that I've cleared off my table, I can eat there! Being single without any roommates (except the dogs), sitting there at the table by yourself can feel lonely. But I'm going to give it a go and see if it makes any difference. Not saying I'm going to stick to it, but I can do it for at least 7 days.
2. Clean my laundry room and bathrooms.
Since cleaning my kitchen was last week's goal, (and the only reason I did it was because I posted on here that I would) I'm going to make the laundry room and bathrooms this week's projects.
3. Set up the night before.
It never fails, in the morning, I am running around trying to figure out what to wear, pack my gym bag, pack my breakfast, lunch and dinner if I need to. This week I'm going to do all of that BEFORE going to bed.
4. COMPLETE A HALF MARATHON.
Months of training and it's finally here. On Saturday morning, I will be completing my first half marathon. I'm nervous but excited at the same time. When I first started, I had it in my head that I wanted to finish in 3 hours. Now, I just want to finish. Can't wait to put that 13.1 sticker on my car!
What are you goals for the week?