As far as my goals go for this past week, I sucked big time. I'm going to blame it on the long weekend and that I didn't get them posted on Monday... yeah... that's why I didn't accomplish them...
HOWEVER...
I PASSED THE 50 POUND MARK!!! Stepped on the scale this morning and lost a whooping 5.4 pounds this week.
I don't even know how I did that, but I'll take it
. Actually no, I DO know how I did that. I worked my ASS off and I EARNED it. So I'll take it. 5.4 pounds this week which makes my grand total of weight loss 50.4. It's taken a little over a year, but hey... better than going the other way.
Anyways, onto the Weekly Goals Linkup...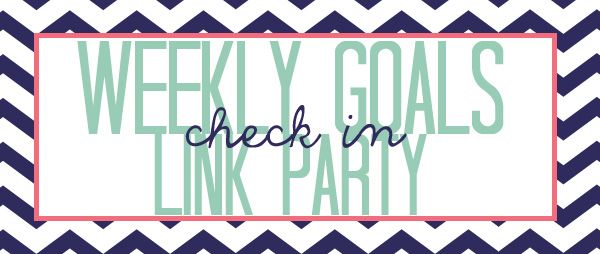 Recap of last week's goals:
1. Clean my craft room.
Didn't happen. I ended up having to make 200 masks for church for a family event they were having. I GROSSLY underestimated how long it takes to make 200 masks.
2. Do core work everyday.
Still haven't done that. I think it's because I have such a set workout routine now, that I forget about it and then think about it right before falling asleep.
3. Stay under my calorie goal everyday.
I went over on Memorial Day (damn cookouts) and Saturday. A friend came in town and we went to the hibatchi grill that night for dinner. It didn't help that I was still making masks that morning and then it was raining all day, so it was hard to get a workout in. (I know I know... excuses excuses excuses...)
4. Cook what I have.
I did do this! Success!
This week's goals:
1. Get all of my runs in.
4 runs a week and last week I only got 1 in. Unacceptable. All 4 WILL get done this week.
2. Stay under my calorie goal every day.
I'm going to Louisville this weekend so that will be hard, but I am determined to do it this week!
3. Go to BodyPump at least twice this week.
We are doing speed training tonight, so that means I'll have to go tomorrow morning and Wednesday.



Follow my blog with Bloglovin